Help Your Employees Make College Affordable
With higher education costs being one of the largest investments a family makes, getting started with Edvest is an important step your employees can make to

achieve financial wellness. 529 plans, like the Edvest College Savings Plan, are low-maintenance and offer unique tax advantages.

Education and savings are two vital components of any financial wellness program.
And now you can check both boxes by offering Edvest as part of your company's benefits package. Best of all:
It costs you nothing

No reporting is required

There is minimal administration
By offering Edvest at Work, you can educate your employees on the importance of saving for your children's future higher education, and even help them save through payroll direct deposit.

Plus, employers that contribute to employees' Edvest accounts may be eligible for a state tax credit equal to 25 percent of the total contribution. Please consult a tax professional for the applicable maximum tax credit per employee per tax year.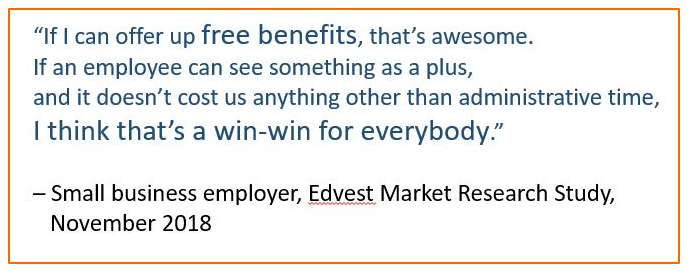 Find out how your company can get started with Edvest at Work by visiting Edvest.com/benefit. Download or order free educational materials. Access videos, podcasts, and more.

Edvest is holding two webinars in January for employees. Please consider sharing the links below to these free, educational webinars:

January 13th – Registration Link                    

January 27th – Registration Link                                    

To speak with a Wisconsin-based Edvest Consultant, please contact Khaleel Ali at khaleel.ali@tiaa.org or (414) 410-0009.


To learn more about the Wisconsin College Savings Plan, its investment objectives, tax benefits, risks and costs, please see the Plan Description at Edvest.com. Read it carefully. Investments in the Plan are neither insured nor guaranteed and there is the risk of investment loss. Consult your legal or tax professional for tax advice. TIAA-CREF Individual & Institutional Services, LLC, Member FINRA, distributor and underwriter for the Wisconsin College Savings Plan. 1461606