Programming Director
The Director of Programing is responsible for keeping chapter programming a high priority for the State Council and for providing a 'go to' resource for chapter programming issues.
Responsible To: State Director

Responsibilities:
Facilitate communication, determining frequency, with chapter programming coordinators, i.e. via conference calls or other method; host programming roundtable or breakout session at WISHRM State Leadership Conference
Attend all State Council meetings and actively participate in Council matters.
Review and prepare reports associated with Council meetings and activities. Review and provide approval of prepared minutes of Council meetings. Approve Council meeting attendance records.
Lead drive toward strengthening chapter programming calendars; facilitate, expand and/or explore collaboration among chapters which may include cost-sharing for events/presenters, webcast or streaming of presentations, archiving of programs and/or other
Work closely with Annual Conference Planning Committee to assist in acquiring speakers
Lead creation, enhancement and/or maintenance of central database listing proven/vetted speakers
Explore supplemental funding source(s) to support programming; if warranted, establish criteria, oversee plan development, make recommendation to State Council and ensure implementation
Requirements:
National SHRM membership in good standing required. SHRM certification preferred. Appointment made by the State Council Director
Term:
Serves a one-year term beginning the first day of January and ending the last day of December. May be re-elected for two additional terms for a total of three years.
---
View More
Back to Board of Directors
Contact Information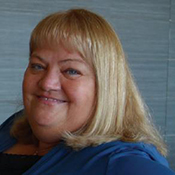 Mary Vogl-Rauscher, SHRM-SCP, SPHR
Programming Director
Moraine Park Technical College
Em: mvogl-rauscher@morainepark.edu
Ph: (920) 887-4465
Term start: 1/1/2019
---
Biography
Mary currently serves as the President of Dodge County SHRM and had previously held the President Elect and Treasurer positions for several years. She also founded the student chapter at MPTC.

Mary's education includes a MBA from Marquette University and a BBA from UW-Oshkosh. Previous employers include Shopko Stores where she was their Director of Executive Staffing and Development. She has also worked for Proctor and Gamble and Corporate McDonald's.

Her current community activities include Community Development Commission (CDC) for the City of Beaver Dam; Beaver Dam Library Board, Beaver Dam Area Orchestra-- Treasurer; Blue Zone Workforce Committee; and Church Health Services Board member.
---
Additional Information
The Director of Programming is responsible for keeping chapter progamming a high priority for the State Council and for providing a 'go to' resource for chapter programming issues.
Resources