Green Bay Area Chapter of SHRM Recognized as a 2022 Top 25 Fundraising Chapter!
With support from SHRM chapters, state councils, and volunteer leaders, the SHRM Foundation is able to fulfill our mission to champion workforce and workplace transformation. THANK YOU!

With more than 500 SHRM chapters, the Top 25 Fundraising Chapters represent the top five percent of all SHRM chapters. These chapters have the highest yearly contributions, including gifts from the chapter plus recognition credits donated by individuals or companies on behalf of the chapter. 

Congratulations Green Bay Area Chapter!!!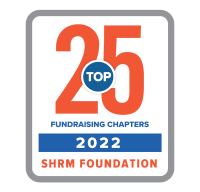 1.  Oklahoma City HR Society
2.  Louisville SHRM  Inc.
3.  Twin Cities SHRM
4.  SHRM-Bluegrass Chapter
5.  HR Tampa
6.  SHRM Jacksonville
7.   Texas Bay Area SHRM
8.   SHRM Guam
9.   SHRM of Greater St. Louis
10.  San Antonio HR Mgmt. Assn.
11.   El Paso Society HRM
12.  Green Bay Area Chapter of SHRM
13.  Big Bend SHRM
14.  Greater Orlando SHRM
15.  DC SHRM
16.  HR Houston
17.   Central Savannah River Area SHRM
18.  Brazos Valley SHRM
19.  Cleveland SHRM
20. Inland Empire SHRM
21.  St. Lucie County HR Assn.
22. SHRM-Hawaii Chapter
23.  Apple Valley HR Association
24.  Bay County SHRM
25.  Greater Ann Arbor SHRM