WI SHRM 2022 VOLUNTEER
Leader Conference
August 4 & 5, 2022
Radisson Hotel
La Crosse, WI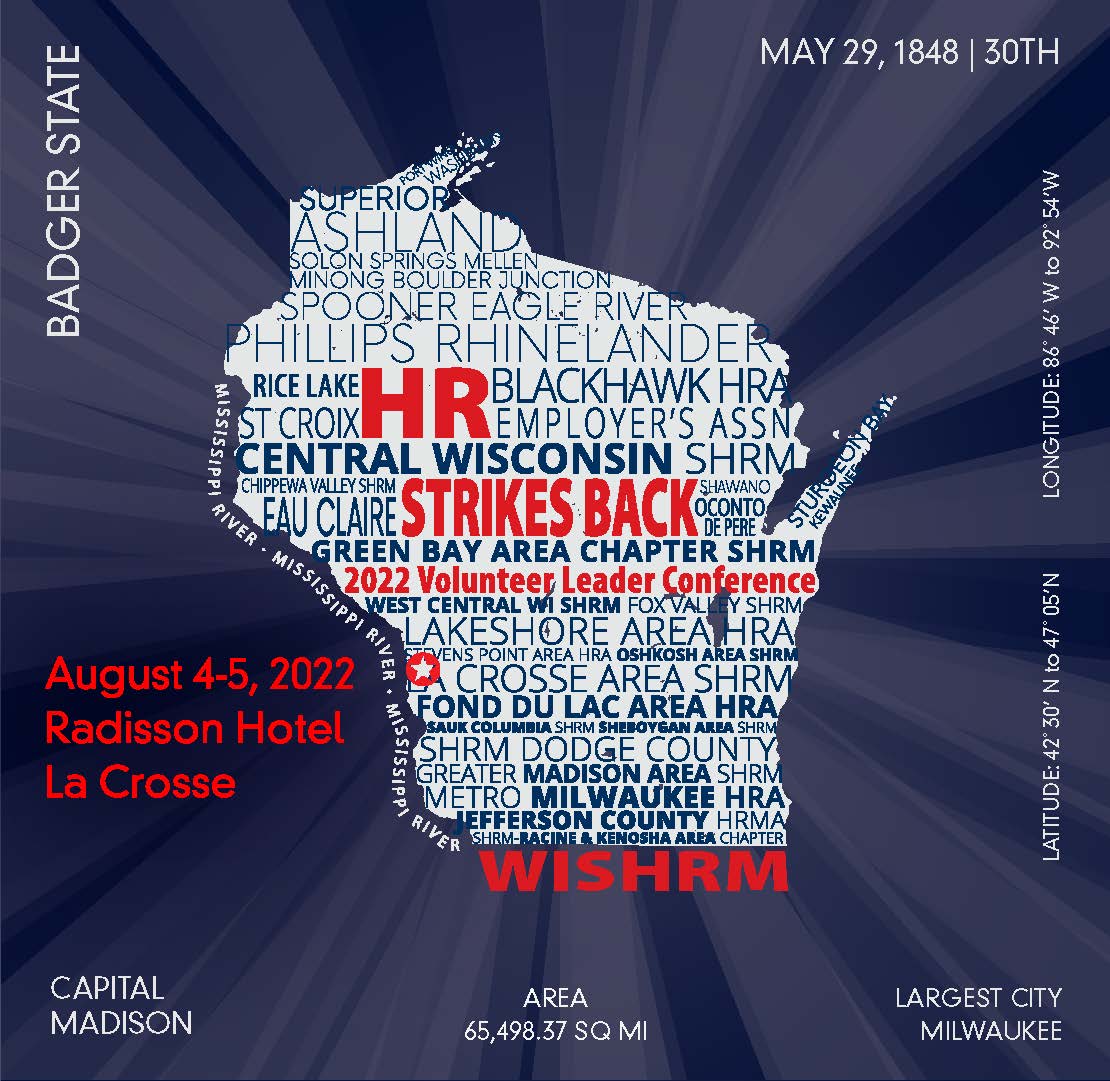 Sponsorship opportunities are available - contact Jen Zahari for more information.
Conference Description
SHRM Volunteer Leaders are among the most dedicated, passionate, and hard-working SHRM members. Whether you are a volunteer leader for your local chapter, student chapter, or the Wisconsin State Council; the 2022 WI SHRM Volunteer Leader Conference will be a fantastic opportunity to: 
Update you with the latest strategic initiatives from SHRM 

Equip you with the knowledge and resources to help you become a more effective volunteer leader 

Connect you with your fellow volunteer leaders from across Wisconsin 
This year's WI SHRM Volunteer Leader Conference will be held on August 4th & 5th at the Radisson Hotel in La Crosse, Wisconsin. Event registration for volunteer leaders will be opened later this Spring, 2022. All SHRM volunteer leaders are encouraged to attend this conference to network, connect, and engage with your Wisconsin SHRM colleagues at this enriching and entertaining event. Whether you are an emerging or aspiring leader or someone that has been involved with volunteer leadership for years, you are sure to learn something new and make meaningful connections with other dedicated human resource professionals that will last long after the conference is over. 
The WI SHRM Volunteer Leader Conference Committee and our chapter host, La Crosse Area SHRM, are enthusiastically planning great programming, engaging events, and valuable activities for you! You will leave this conference knowing more about the vision and mission of SHRM and Wisconsin State Council SHRM, gain in depth knowledge of our SHRM Core Leadership Areas, and learn how best to develop and maintain strong relationships and partnerships between SHRM, WI SHRM, our chapters, and our members. 
WI SHRM Chapter Award Nominations
The WI SHRM Leadership Conference is just around the corner and the conference committee is pleased to share with you the opportunity to be spotlight an outstanding volunteer or chapter initiative.  Wisconsin chapters are doing some fantastic and innovate work and we can't wait to recognize these achievements.

 WI SHRM would like to hear from you, our chapter leaders, and give you the opportunity to spotlight significant achievements, programs, and people that contribute to the advancement of HR.   An overview of this year's award categories for outstanding leadership and achievement can be found he​re. 

We ask Wisconsin chapter and council leaders to read through the awards criteria and complete a short nomination by clinking on the link below to nominate a deserving chapter or individual.  You may make multiple submissions.  Each submission must be submitted separately.  The due date for submission is July 14, 2022.
 
Conference Registration Fees
HR Professional Rate:  $100
Student Rate:  $65


Student Rate is only for FULL-TIME students, not working professionals. Working professionals who are also working towards their bachelor's degree should register under the professional registration type, not as a student.

 
Recertification Information

SHRM Recertification Credit: approval submitted


      

Location / Hotel Accommodations

Radisson Hotel La Crosse
200 Second Street South, 200 Harborview Plaza
La Crosse, WI 54601
Standard King/City View Rate:  $109 per night + tax
Standard 2 Queen/Riverveiw Rate:  $119 per night  + tax

Reservation Phone: (608) 668-2448
Block is under WI Society Human
Resources Management Council-SHRM
Hotel Block closes July 1, 2022
https://www.radissonhotelsamericas.com/

 
Conference at a Glance 
Thursday, August 4, 2022

11:30 am - 1:00 pm

Opening Welcome and Introductions and 




Networking Lunch | Meet YOUR State Council






Jen Zahari,                    Jackie Peterson, 




Leadership Director     State Director

1:06 pm - 1:10 pm
 

Sheree Yates, District Director Southeast &
State Conference Volunteer Committee member

Volunteer Update | State Conference

What does it take to be a volunteer at an 1,800 person conference?!  Let's find out!

Sheree will give brief in's and out's about volunteering at State Conference and the benefits that come back to you in return for your service at the largest annual conference Wisconsin SHRM puts on!



 

1:10 pm - 1:30 pm

 

Chapter Awards



This year's award winners will be announced and celebrated!



Presented by WI SHRM District Directors

Mary Vogl-Rauscher, Northwest District

Sheree Yates, Southeast District

Jane Kurylo, Northeast District

Katelyn Spanbauer, Northcentral District

Jeff Palkowski, Southwest District

 

1:30 pm - 2:25 pm


 

 

Breakout:  Chapter Breakout Sessions

Small (100 members or less)

Medium (100 - 200 members)

Large (200 or members)

Faciliated by the WI SHRM District Directors

2:25 pm - 2:33 pm
Break

2:33 pm - 3:30 pm


 


Heather Dyer, CAE

Breakout:  Marketing 101 | 

Faciliated by the WI SHRM District Directors



How to get noticed – This is a session of best practice marketing tips – from fine tuning your elevator speech to meet various members individual needs to developing a social media marketing plan.  It will provide the fundamentals of marketing in different sections, with more specific niche aspects: social media, defining your brand, and communicating the brand.

Breakout:  Everything Finance!  Financials 101 | Heather Dyer, CAE



Know when your 990 needs to filed?  The importance of tracking income vs. expenses to get a correct balance sheet and clean P/L statement?  Learn what you need to know to manage a chapter organization!  From checklists and compliance to elections, programming and finance; this is the session for you!  Plenty of time for Q & A - the only stupid questions are ones not asked!

3:30 pm - 3:45 pm
Break

Dave Delaney

Workshop | Networking for Nice People
 

Networking For Nice People is a workshop that will teach you everything you need to know to improve your experience networking during the HR Strikes Back Conference and beyond.  New Business Networking author, Dave Delaney, will show you practical steps to building long-lasting, rewarding relationships with the people you meet and the three key steps to improving your networking efforts - the nice way.

Dave Delaney is the founder of Futureforth.com. He is an author, podcast host, corporate trainer, and keynote speaker known as a communication connoisseur.

Dave is the creator of the NICE Method. He helps fast-growing companies reach their people through comprehensive communication workshops and presentations. Delaney works with brands like Google, FedEx, LinkedIn, and UPS.

Delaney is an American Marketing Association award winner in Nashville. He has appeared in USA Today, Entrepreneur, Inc, Fortune, and Billboard Magazine. He has also been mentioned in multiple business communication books.

His acclaimed book, New Business Networking, explores online and offline tools, tips, and techniques to grow and nurture your professional network for your business and career by communicating - the nice way. 

Dave was born and raised in Toronto, Ontario, Canada. He took a trip to Ireland and ended up living with Irish twins in Nashville, Tennessee. It's a long story, he will happily share.

5:00 pm - 5:15 pm

Closing Comments / Commitee Recognition
Intro to the Evening / What's Coming for Tomorrow

5:15 pm - 8:30 pm

La Crosse Center Rooftop | Dinner*





*Includes Happy Hour

 and Music

8:30 pm - 10:00 pm
Late Night La Crosse

Moon Tunes-Greg Hall and the Wrecking Ball, Starlight Lounge, The Crow, Bodega (More info here!)
 

*Times and content subject to change without notice.
Friday, August 5, 2022

7:45 am - 8:45 am

Breakfast | Networking

8:45 am - 9:30 am


 

Jenny Locanthi,
SHRM-SCP

SHRM National Update





Jenny Locanthi, SHRM-SCP





Meet our new SHRM Field Services Director and she will bring the latest information from SHRM!



Jenny Locanthi, SHRM-SCP is a Field Services Director for the Society for Human Resource Management (SHRM) and will be supporting Wisconsin SHRM, our affiliated chapters and volunteer leaders across the state. Prior to joining SHRM, Jenny worked in HR supporting a wide variety of HR functions including compensation, talent acquisition, benefits, compliance, payroll, training and performance management. Jenny is a long-time SHRM volunteer leader, serving in various roles for both her local chapter at the state level in Kansas. She is excited to officially join SHRM's staff and looks forward to working with the HR community in WI!

9:45 am - 10:45 am

Breakout:  Veteran Leaders | Working with Volunteer Challenges

We will provide a space to share the challenges volunteers face in light of burnout, extra duties and life in general.  Learn techinques and new ideas to cope and deal with these challenges.

Breakout:  New Leaders | Dive Right In

Do you have "Deer in the Headlights?"  Don't know what to do first or where to turn?  These questions and more will be answered and discussed during this lively session welcoming new leaders to the 'Club!'  Bring all your questions and concerns to be discussed in a safe place.



Faciliated by the WI SHRM District Directors

10:45 am - 11:00 am
Break

11:00 am - 12:30 pm


Dave Delaney

Keynote | The ROI of Nice



The ROI of Nice - How the nicest leaders keep their employees and build strong cultures.  

Acclaimed author, consultant, and speaker, Dave Delaney, shares three pillars to improving employee retention, communication, and growing stellar cultures.  You will be left with actionable steps to lead happier and more connected teams.  The results of Delaney's Nice Methodology will save you the costly effort of replacing and retraining your people. Get ready to discover how to hear your team, avoid the wrecks, and discover life outside your walls!


 

12:30 pm - 12:45 pm 



 
Closing and Prizes | Sponsor Drawings

Jen Zahari, Leadership Director

12:45 pm - 1:30 pm

Lunch and Departure

 
*Times and content subject to change without notice.
---



Foundation Fundraising Events
Cork Pull 


Back by popular demand, we are bringing back the cork pull.  Buy a cork for $15.00 and win your bottle of wine or spirits!  



Gift Card Pull 




During this year's in-person conference, we will be conducting a "Gift card pull."  Donate $25.00 to the SHRM Foundation, pull a number from the list, and get the gift card that matches your number.  Gift card values vary.  





Silent Auction




We invite you to also participate in the Silent Auction.  Bidding will start Thursday, August 4th and wrap up at 12 Noon on Friday, August 5th.  Winners of the silent auction bids will be announced during the closing of the conference on August 5th.
Networking, Happy Hour, Dinner on the Rooftop
Enjoy the evening with your fellow HR professionals in a  laid-back atmosphere filled with food, beverages and music on the La Crosse Center Rooftop.  The La Crosse Area Chapter SHRM has picked the some of best spots for Late Night La Crosse:  Moon Tunes - Greg Hall and the Wrecking Ball, Starlight Lounge, The Crow, and Bodega!  Click here for more information!
Attendee Cancellation:
A $35 administrative fee will be charged for conference cancellations received before July 15, 2022.  Requests for refunds after July 15th will be denied unless there are extenuating circumstances which prevent an attendee from finding another person to attend the conference in their place.  (An extenuating circumstance may include an unexpected death in the family or medical emergency).  Proof of the hardship will be required.  Changing work loads and/or staffing levels at your organization are not considered an extenuating circumstance for cancelling after the cut-off date.  These requests will be reviewed by members of the WI SHRM Executive Council, Leadership Director and the Conference Liaison Director on a case-by-case basis.
 
Thank you to our Sponsors!
 

Associated Bank
200 North Adams Street


Green Bay, WI 54301





Contact:

 Authur Shattuck




Email:

 arthur.shattuck@associatedbank.com



Phone:

(920) 727-5204


Website:

www.associatedbank.com


 

Associated Bank's HSA Plus platform delivers: state-of-the-art technology for ease of use by employer and employee; robust reporting to provide data analytics to support strategic benefits decisions; a fully integrated investment option with in-house investment oversight; Wisconsin based customer care; and educational support for employees to learn how to maximize their tax advantaged dollars.

We are Gallagher, a global leader in insurance, risk management and consulting services. Much more than simply an insurance broker, we are an international group of partners that provide cost-effective, client-centric, and expertise-driven risk management solutions. Our leadership team fosters a dynamic, entrepreneurial culture that has made us an innovator in creating new products and services for our clients.

M3 Insurance
828 John Nolen Drive
Madison, WI 53713



Contact:

 Traci Licari




Email:

 traci.licari@m3ins.com



Phone:

(414) 978-1439
Website: www.m3ins.com  

M3 is a top 50 insurance broker and risk management firm in America. We're leaders in the products we represent and the industries we serve. M3's people are an extension of your team, providing world-class resources to help you manage risk, purchase insurance, and provide employee benefits. And our focus on community builds better places to live and work. For more information on M3, visit www.m3ins.com.

               

SEEK Careers/Staffing, Inc. is a principle-based staffing resource dedicated to Servicing Your Success by exceeding your expectations.

SEEK's Core Values – Integrity, Passion and Extraordinary Customer Service - are demonstrated by its teams as they provide assignment employees, vendor-on-premises consultants and direct-hire candidates.

We specialize in employment placedment for direct-hire, temporary-to-hire and contract opportunities in manufacturing, light industrial, skilled trades, administrative and a host of other positions as well.