State Conference Nominations Information
Every year Wisconsin SHRM puts together a State Conference for Human Resource Professionals. We are very proud of the success of those conferences through the years. The conferences would not be possible without the dedication and hard work of volunteer professionals who form a planning committee each year.
Seeking 2016 Conference Planning Committee Positions - Deadline October 26th - Apply Today!
Guidelines for the Conference Committee Selection
The 2016 Conference Co-chairs working with support from the Conference Liaison Director will select the 2016 sub-committee co-chairs.
Individuals serving in a conference sub-committee co-chair role must submit an application before October 26th of the year prior to the conference year for which they wish to serve.
Conference sub-committee co-chairs are allowed to serve up to three years in the same role. If someone serves up to 3 years they will be able to apply for a different role on the committee.
Applicants interested in applying for Exhibit, Programming, Accommodation and Publications committee co-chair roles will be asked to make a 2-3 year commitment.
To be considered, all applications must be submitted by the deadline.
General Committee Expectations:
Attend monthly committee meetings from December of the prior year up until the conference date (October). The option to attend via conference call is usually available.
Fulfill the position requirements as outlined by the Conference Position Descriptions.
Be present and actively involved "behind the scenes" at the conference. Some committee members are limited to the number of learning sessions they can attend.
Develop new relationships with HR Professionals across the state and have fun.
Future Dates and Locations of Wisconsin State HR Conferences:
October 5 - 7, 2016 Wisconsin Dells - Kalahari Resort & Conference Center

October 11 - 13, 2017 Wisconsin Dells - Kalahari Resort & Conference Center

October 10 - 12, 2018 Wisconsin Dells - Kalahari Resort & Conference Center

See all State Conference Position Descriptions.
Contact:

Lisa Henke, GBA, PHR
WISHRM Conference Liaison Director
lhenke@co.walworth.wi.us
New SHRM Competency Certification
Click Here to read more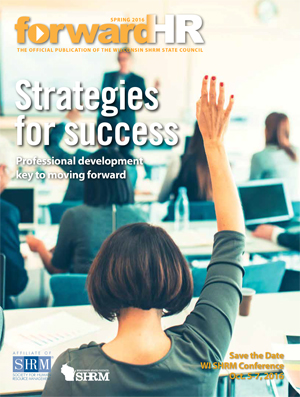 FORWARD HR MAGAZINE -
Click Here
to read the latest digital edition!!