2019 Day on the Hill
February 13th - 14th, 2019
Premier Park Hotel - Madison, Wisconsin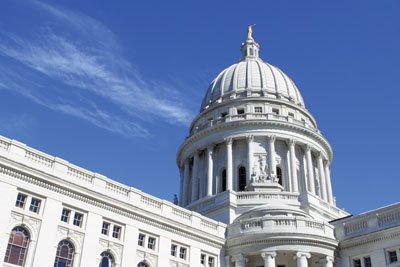 Registering before or by Friday, February 1, 2019 will help to ensure you are meeting with your legislator(s).
PLEASE NOTE: Legislator meetings cannot be guaranteed for registration after Friday, February 1st, 2019.

Become a Sponsor! CLICK HERE to download the Sponsorship Form (PDF).
Conference Description
Join your HR colleagues from around the state at our 5th Annual WISHRM Day on the Hill event! The Day on the Hill provides you the unique opportunity to travel to Madison, WI for a day of legislative insight and networking with colleagues and legislators. The event is scheduled in February to provide our attendees with the opportunity to make an impact at the start of a new legislative session.
Prior to the Day on the Hill event, online training on how to conduct an advocacy meeting will be delivered. The day of the event will begin with a review of SHRM advocacy efforts from Meredith Nethercutt, Director for Member Advocacy at National SHRM, and an overview of the Wisconsin State Government. We'll receive information about pending reforms in areas that directly impact human resources professionals. Remaining presentations will include a visit from state legislators, a panel discussion on employer assisted student loan repayment, and an employment law update from Attorney Bob Gregg of the Boardman & Clark Law Firm. Sessions will be submitted for preapproval of recertification credits.
The day will conclude with scheduled meetings with your individual Legislators and/or Legislative staff members at the Wisconsin State Capitol. Legislator meetings typically last about 15 minutes, at which you will discuss current issues pertinent to the human resources profession. If you are a first time attendee and unsure of the legislator meeting process, just tell us on your registration form and we will ensure we have someone to attend your first meeting with you! Business attire is recommended for legislative meetings.
The Day on the Hill will provide a great opportunity for you to advocate on behalf of WISHRM and the HR profession, to learn more about the political process, and to have a real impact on the public policy debate in Wisconsin involving critical HR and business issues.
Also, join us at the Top of the Park on Wednesday evening from 5:30pm to 7pm for a social/networking event. Dress is casual. If you are unable to attend the Thursday Day on the Hill event, but would still like to attend the Wednesday networking event, the cost to attend the networking event only is $25.
Cancellation Policy:
All cancellations must be in writing to: wishrm@morgandata.com
A $40 administrative fee will be charged for conference cancellations received before January 31, 2019. Requests for refunds after January 31st will be denied unless there are extenuating circumstances which prevent an attendee from finding another person to attend the conference in their place. An extenuating circumstance may include an unexpected death in the family or medical emergency. Proof of the hardship will be required. These requests will be reviewed by members of the WI SHRM Executive Council, Day on the Hill Co-Chairs and the Conference Liaison Director on a case-by-case basis.
Event Pricing
| | |
| --- | --- |
| SHRM Member | $75 |
| Non-SHRM Member | $85 |
| Student (Full Time - Undergrad) | $40 |
| Wednesday Networking Event Only | $25 |

Certification Approval -
Credits Applied For
| | |
| --- | --- |
| SHRM | HRCI* |
| | |
Location / Hotel Accommodations
Park Hotel - Downtown Madison
22 South Carroll Street
Madison, Wisconsin 53703
For Reservations, Call: (608) 285-8000
Reservation Code: WI SHRM Legislative Day on the Hill 2019
Rate: $129.00 plus tax
Room Block Deadline: January 13, 2019 - Rooms may still be available after this date. Please call the hotel to inquire!
Hotel Cancellation Policy: Must be made 24 hours prior to the day of arrival
SHRM Activity Credits: 4 credits
HRCI Activity Credits: 4.25 credits
*The use of this seal confirms that this activity has met HR Certification Institute's® (HRCI®) criteria for recertification credit pre-approval.

Additional ways to earn Credit:
›› Writing an HR-related letter or making a call to Congress/state legislature = 1 PDC per year
›› Participating in the SHRM Advocacy Team (A-Team) = 3 PDCs per year
›› Participating in Capitol Hill visits = 3 PDCs per year
›› Becoming an HR advocacy captain = 5 PDCs per year

Click here for more information!
Conference at a Glance
Wednesday, February 6, 2019: Preconference Webinar

| Time | Description |
| --- | --- |
| 2:00 - 3:00 PM | A Preconference Webinar is scheduled to assist those who have registered to meet with their legislators. Preparation will include meeting etiquette, what to expect and how to make the most of your time at the Capitol. This webinar will be hosted by National SHRM. Connection information will be emailed to registered Conference attendees in advance. |
Wednesday, February 13, 2019: Networking Reception
| Time | Description |
| --- | --- |
| 5:30 - 7:00 PM | Join us at the Top of the Park in the Park Hotel on Wednesday evening from 5:30pm to 7pm for a social/networking event. Dress is casual. If you are unable to attend the Thursday Day on the Hill event, but would still like to attend the Wednesday networking event, the cost to attend the networking event only is $25. |
Thursday, February 14, 2019: Conference Day
Time
Description
7:00 - 7:50 AM
Registration / Continental Breakfast / Networking
7:50 - 8:00 AM
Welcome & Opening Announcements
8:00 - 9:00 AM
Advocacy Team and National SHRM Update
Presenter: Meredith Nethercutt, Director for Member Advocacy, National SHRM
9:00 - 9:15 AM
Under the Capitol Dome: A Quick Overview of Wisconsin State Government
Presenter: Jeff Palkowski, Director of Government Affairs, Greater Madison Area SHRM
9:15 - 9:30 AM
Break
9:30 - 10:00 AM
Legislative Update from the State Capitol
Presenter: TBA
10:00 - 10:45 AM
Legislator Speaker/s
TBA
10:45 - 11:00 AM
Break
11:00 - 12:00 PM
Debt & Taxes: Helping Employees Pay Off Student Loans
Presenters: Abigail Darwin, Esq., Quarles & Brady; Jeremiah DeGollon, VP-Relationship Development & Advocacy, Summit Credit Union; Scott Lopez, VP of HR and Organizational Development, Credit Union National Association; David Aronson, CEO, Peanut Butter, Inc.
12:00 - 12:45 PM
Lunch and Networking
12:45 - 2:00 PM
Legislative Updates
Presenter: Bob Gregg, Attorney at Boardman & Clark Law Firm and Wisconsin State Council SHRM Legislative Partner
2:00 - 2:15 PM
Legislative Meeting Preparation
Attendees will spend time on last minute meeting preparation and head to the Capitol together for a group picture before meetings begin.
2:15 - 4:30 PM
Individual Legislative Meetings
Attendees will have an opportunity to engage their State Legislators in pre-scheduled discussions allowing for there to be open dialogue about who SHRM is, what we represent and the opportunity for Legislators to better understand how a future relationship with us can benefit them when workforce planning and employment related legislation is presented.
Featured Presenters


Featured Presenter,
Bob Gregg

Bob Gregg - Boardman & Clark

About the Program: A new Congress! A new Supreme Court! A new Governor – same Legislature! Things are about to change! And some of the old issues continue to take on new life. This is a time of confusion, and increased personal liability for managers – including you. Are "dinosaur executives" in danger of extinction? Sometimes trying to be sensitive and do the right thing can backfire. Are you being "caring," "sensitive" or "discriminatory?" You should know the difference and have some good advice on these and other recent legal developments.


The new political scene – changes at the state.
Still up in the air. Conflicting decisions on Age and LGBT – but our court switched! So it's now clear here! – for the moment.
Supreme Court.
Executive demise - #METOO and the Weinstein Clause.
The hiring crisis – time to reevaluate standards.
Beware of creating double standards.
Strangest cases of the year

Bio: Bob Gregg, Co-Chair of the Labor & Employment practice at Boardman & Clark LLP in Madison, Wisconsin, has been involved in employment relations for more than 30 years. Bob's practice has a special emphasis on documentation. He trains managers and investigators in proper investigation and documentation practices. In addition, he litigates employment cases, representing employers in all area of employment law. His main emphasis is helping employers achieve enhanced productivity, creating positive work environments, and resolving employment problems before they generate lawsuits. He has designed the workplace policies of numerous employers. Bob has conducted more than 3,000 seminars throughout the United States and authored numerous articles on practical employment issues. Bob is a member of the Society for Human Resource Management, the National Speakers Association, a National Faculty Member of the American Association for Access, Equity and Diversity and serves on the Board of Directors for the Department of Defense Equal Opportunity Management Institute Foundation.

---


Featured Presenter,
Meredith Nethercutt

Meredith Nethercutt - SHRM



About the Program: Meredith will provide a brief overview on the engagement activity associated with meeting and advocating on Wisconsin SHRM's behalf when engaging our state Legislators. She will discuss A-team initiatives at the National SHRM level, particularly as SHRM works with the 116

th

Congress.

Bio: Meredith Nethercutt is the Director for Member Advocacy at the Society for Human Resource Management. Overseeing SHRM's Advocacy Team (A-Team) network of volunteer advocates, Meredith facilitates relationships between SHRM members and lawmakers to strengthen the Society's advocacy objectives in legislative districts nationwide. In addition, Meredith provides training and guidance to HR advocates on how to effectively communicate with lawmakers regarding workplace policies. A critical part of the Society's enhanced advocacy initiative, the A-Team advances the HR perspective and agenda by leveraging the reach and knowledge of SHRM members through grassroots advocacy.

Prior to joining SHRM, Meredith served as director of public affairs and grassroots advocacy at the National Association of Manufacturers (NAM), where she oversaw the complete association advocacy program branding and reorganization, as well as the construction of a strategic association-wide key contact program to leverage relationships between manufacturers and federal lawmakers. Meredith's previous career experience includes advocacy positions with the International Franchise Association (IFA) and the National Restaurant Association, where she managed both association's grassroots programs. She started her career in advocacy at Associated Builders and Contractors.

Meredith received a Bachelor of Science degree from Vanderbilt University. She resides in Denver, CO.
---



Featured Presenter,
Jeff Palkowski

Jeff Palkowski - Greater Madison Area SHRM



About the Program: Under the Capitol Dome: A Quick Overview of Wisconsin State Government

There is a lot that takes place under the granite dome of the Wisconsin State Capitol. Whether you are a first-time or seasoned Day on the Hill attendee, this short refresher will help to prepare you to make the most out of your legislative visits.

Some topics that we will cover in 15 minutes or less include:

Framework of Wisconsin State Government
The Wisconsin State Legislature by the Numbers
Who's Who and Who's in Control
How an Idea Becomes a Bill and a Bill Becomes a Law
Top Ten Tips for a Great Visit to the Wisconsin State Capitol


Bio: Jeff Palkowski, MHRM, SHRM-CP, PHR is a Senior Human Resources Specialist with the Wisconsin Department of Administration, Division of Personnel Management, supporting the Wisconsin Department of Agriculture, Trade and Consumer Protection. He has worked in human resources for over fifteen years and has been involved with the Society for Human Resource Management at national and local chapter levels since 2003

Jeff currently serves as the Director of Government Affairs for the Greater Madison Area SHRM chapter, SHRM Advocacy Captain for Wisconsin's 1st Congressional District, and is the incoming Wisconsin SHRM State Council Director of Governmental Affairs. In these roles, Jeff has been able to combine his previous experience working as a Deputy Chief of Staff/Policy Advisor in the Wisconsin Legislature along with his interest and desire to advocate and initiate positive change in the human resources industry as a SHRM Advocacy A-Team Member since 2012.

A certified Professional in Human Resources since 2008 and SHRM Certified Professional since 2015, Jeff received his undergraduate degree from the University of Wisconsin-Milwaukee and earned a Masters in Human Resources Management from the Keller Graduate School of Management.
---


Featured Presenter,
Attorney Abigail Darwin



Abigail Darwin - Quarles & Brady LLP



About the Program: Currently, an employer can provide an employee with up to $5,250 per year in tax-free education benefits if the employee takes classes while employed. And yet, if an employer wants to help an employee pay off pre-existing student loan debt, the benefit is taxable. With more than 44 million people collectively owing $1.5 trillion in student loans, the vast majority of whom are under the age of 40, and with unemployment at historic lows, employers are becoming increasingly interested in understanding more about employer-sponsored student loan repayment assistance programs. During this presentation, you will hear from an Employee Benefits Attorney, two financial services executives from the credit union industry and the Chief Executive Officer of an organization that assists employers with student loan repayment programs.

Attendees will learn about the following in this presentation:

The current legislative and regulatory landscape relating to student loan repayment assistance programs, as well as recent attempts at reform;
Platforms and methods that employers are using to provide educational assistance benefits to employees, as well as current industry trends in offering student loan repayment benefits; and
Advantages and disadvantages to offering student loan repayment benefits to employees and ideas for effective plan designs for employers interested in offering such benefits.


Bio: Abigail Darwin, Esq., is an attorney in Quarles & Brady LLP's Labor & Employment Practice Group in the firm's Madison, Wisconsin office. Her practice focuses on employee benefits, including health and welfare plans and retirement plans. Ms. Darwin also assists clients with maintaining compliance with the Affordable Care Act, ERISA, FMLA, COBRA, HIPAA and the Gramm-Leach-Bliley Act. Ms. Darwin also advises clients in the area of executive compensation, including employment agreements, severance agreements, change in control agreements, incentive and equity-based compensation plan, deferred compensation plans and tax and securities law issues relating to executive compensation.

Ms. Darwin received her Bachelor of Arts degrees from the University of Iowa and her Juris Doctor degree from the University of Iowa College of Law. She is a member of the Wisconsin and New York state bars and is a CLE instructor for the State Bar of Wisconsin. Ms. Darwin serves on both the Government Relations and Interpretations Committee and the Education Committee for ECFC and is on the GMA-SHRM Government Affairs Committee. She is also a regular contributor to the GMA-SHRM newsletter.




Featured Presenter,
Jeremiah DeGollon

Jeremiah DeGollon - Summit Credit Union



Bio: Jeremiah DeGollon is Vice President – Relationship Development and Advocacy at Summit Credit Union, headquartered in Madison, Wisconsin. Mr. DeGollon has been in financial services for 20 years and received his Master's in business administration from Edgewood College. He uses his experience working in financial services and financial education, to work on behalf of credit unions on a wide range of legislative issues and is a frequent presenter on credit union advocacy and legislative matters.

Mr. DeGollon currently serves on the board of directors for STAR Credit Union as Board Chair, the Cooperative Network as Director, representing Wisconsin credit unions, the Madison Area Chapter of Credit Unions as Vice President, and member of the Wisconsin Credit Union League's Government Affairs Committee.



Featured Presenter,
Scott Lopez

Scott Lopez - Credit Union National Association



Bio: Scott Lopez calls on 20+ years of experience in the Human Resource field. His touch points have focused on recruitment and retention, labor and employee relations, compensation and employee development. The foundation for his experience comes from the University Wisconsin Madison's master's program in Industrial Relations.

His work experience is with the Credit Union National Association plus a little with the World Council of Credit Unions.He has presented at many venues on various topics to include Interest Based Bargaining, Documentation and Discipline, HR 101, Investigations, Personnel Profiles Integration.Most recently he is researching and experimenting on ways to apply employee engagement and team development.


Featured Presenter,
David Aronson

David Aronson - Peanut Butter, Inc.



Bio: David Aronson is CEO of Peanut Butter, which helps employers offer student loan assistance as a benefit. Aronson has 20 years of business experience and has founded 6 ventures as entrepreneur or intrapreneur. He previously served as Head of Business Development for the Health & Wellness Division of Sears Holdings, and Director of Corporate Development for Gevity HR, beginning his career at the Aronson family's Tasty Bakery.

David earned an MBA from the J.L. Kellogg School of Management at Northwestern University with concentrations in Entrepreneurship & Innovation, Managerial Economics, and Marketing, and earned a BSBA in Finance from Valparaiso University.