2015 WISHRM Student Conference and HR Games Competition - Volunteer Opportunities
SHRM Leaders of Wisconsin – your assistance is requested for the 2015 Student Conference and HR Games Hosted by the University of Wisconsin-Whitewater on March 6th and 7th, 2015 (there is a Council Meeting tied to the Student Conference). We are currently in need of volunteers and are reaching out to see if any of you would be interested in serving in a volunteer role. Here are the details:
*Friday, March 6 from 5:15pm-9:00pm (Training begins at 5:15pm, Games begin at 6:15pm) & Saturday, March 7 from 12pm-2pm – looking for volunteers to serve as Judge (SPHR Certified), Presenter, Timekeeper and Matrix Manager. Meals for volunteers are provided. Volunteers are also able to attend the speaker sessions on Saturday, which begin at 9am. The summaries for volunteer options are listed below.
Judge (SPHR Certified): You control the room! It is your job to make sure all scores are correct. It is also your responsibility to decide whether an answer provided by a team is correct or incorrect. If the answer the team gives is different from that on your answer sheet, use your discretion in ruling it correct or incorrect. Re-certification credits have been accepted for Judges at the HR Games.
Presenter: You keep the game moving! You are responsible for introducing all volunteers and providing rules/announcements to competing teams. In addition, it is your responsibility to read the questions for each team to answer and to determine which team buzzes in first.
Timekeeper: You are responsible for making sure the game stays on track with time. It is up to you to inform the presenter if neither team answers in a timely fashion. You also call the game when time is up.
Matrix Manager/Scorekeeper: You are the gamekeeper. You control the game board and make sure scores are calculating correctly. You also report final scores to the senior judge at the end of each game.

We need at least 30 volunteers to make this event a success.
Anyone interested in volunteering, please contact Matt Nechodom, PHR, WI SHRM College Relations Director at
mnechodo@amfam.com
or call 608.242.4100, ext. 38692.
Contact Information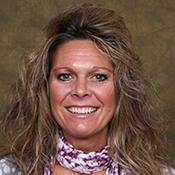 Terleen Cheslock
College Relations Director
Fox Valley Technical College
Phone: (920) 993-5101
Em: cheslock@fvtc.edu
Term start: 01/01/2019

---
Biography
Terleen Cheslock is the Organizational & Staff Development Manager at Fox Valley Technical College. She is an experienced staff development manager with a demonstrated history of working in higher education. Skilled in compensation, corporate communications, labor relations, interviewing, and organizational development. Terleen has her Masters of Science Degree focused in Organizational Development & Behavior from Silver Lake College. She has spent over 20 years in the human resources industry. Terleen also adjunct instructs in the HR program at the college.

Additional Information
Resources