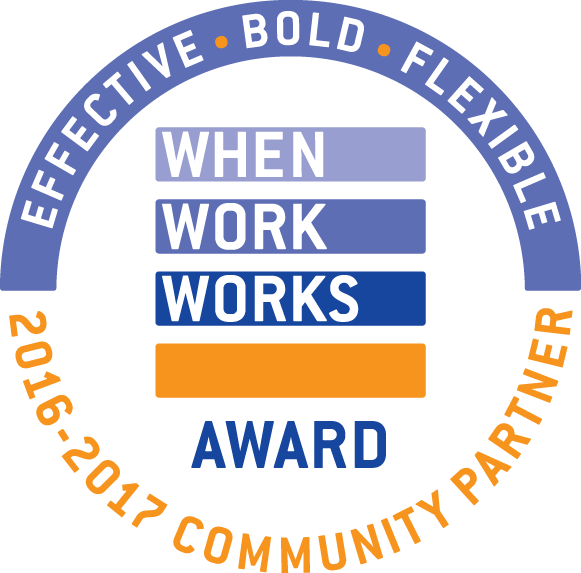 About When Work Works
When Work Works
is a national initiative, led by the partnership of Families and Work Institute (FWI) and the Society for Human Resource Management (SHRM), to help businesses of all sizes and types become more successful by transforming the way they view and adopt
effective and flexible workplaces
.
When Work Works shares cutting-edge research and resources and highlights best practices through its searchable tool:
Guide to Bold New Ideas
. Practices such as telecommuting, flextime, part-time work, job sharing, transition to retirement, and compressed schedules help employees meet their work and life responsibilities and help employers respond to the competitive global marketplace. Flexible workplace strategies boost productivity, increase employee morale, lower turnover and absenteeism, and lower overhead costs.
When Work Works Community Partners
When Work Works partners with communities and states around the country to:
• share rigorous research and employer best practices on workplace effectiveness and flexibility;
• inspire local employers to create more effective and flexible workplaces to benefit both business and employees; and
• recognize exemplary employers through the WWW Award and local community events.
Wisconsin SHRM Council is honored to be a When Work Works
Community Partner
. As the major outreach arm of the initiative, Community Partners connect community leaders from business, media and government to create change and make the community case for effective and flexible workplaces.
When Work Works Award - Save the Date:
When Work Works Award applications open September 26, 2016 - November 18, 2016!
The
WWW Award program
is national in scope, and recognizes model employers of all types and sizes across the U.S. for their innovative and effective workplace practices. It is a worksite-based award honoring organizations that are using workplace flexibility as a strategy to make work
work
better—for both the employer and the employee.
Employers benefit
by merely applying for the WWW Award as all applicants receive a free customized benchmarking report comparing their effective and flexible workplace practices to a nationally representative sample of U.S. employers and to award winners.
FREE Workflex Assessment
Ever wonder how your workplace flexibility strategies compare against other organizations in your industry across the U.S.? Now you can find out by completing the
free
Workflex Assessment
. Based on the prestigious When Work Works Award, this free online questionnaire will let you know how you stack up. It takes about 15 minutes to do and you get your score immediately upon completion.
Free Workflex Guides to Help Work Work!
If you're looking for ways to make your organization more effective and flexible,
When Work Works' Guides
can help! These FREE Workflex Guides are for employers who want to explore ways to #ReinventWork with greater flexibility. Available Guides include:
Workflex in Retail, Service and Hospitality Guide: Cooperative Scheduling, Beyond Bias
is the go-to-resource for making service based work more flexible and effective. For many, the idea of flexible work arrangements for hourly frontline service jobs feels impractical or difficult to manage. But, in reality, it is possible and has been instituted by a number or retailers, restaurants and hotels across the country. This guide offers tips, case studies, and practical advice on how to use workflex to rethink schedules, improve economic security and create a more reliable and productive team.
Workflex and Health Care Guide: From Forced Flexibility to Effective Schedules
is for employers in the health care industry who want to rethink how they approach workplace flexibility for doctors, nurses, and other staff tied to the 24 hour, hands-on, high stakes task of saving lives. It offers several case studies, practical advice and tips on how to use workflex to rethink schedules, reduce and/or more efficiently reallocate administrative tasks, and apply the mission of well-being to patients and employees.
Workflex and Small Business Guide: Big Ideas for Any Size
is for employers with small staff or individual teams who want to rethink how they approach workplace flexibility. It offers tips, case studies, and practical advice on how to use workflex to leverage limited resources; provide more work-life fit to employees; boost productivity and retention; and guidance on talking to resistant leaders. It also includes sample flexibility and PTO policies.
Workflex and Manufacturing Guide: More Than a Dream
will show you how workflex is possible in manufacturing settings. It includes real examples straight from factory floors, providing insights on how to make workflex a reality.
Workflex and Telework Guide: Everyone's Guide to Working Anywhere
is designed to help employers and HR professionals consider when telework works for their organization and employees by examining five key concerns of employers investing in telework.
Workflex and Managers Guide: Starting the Conversation about Workflex for You and Your Team
is for the everyday manager charged with making work work for employees and the organization. The Guide offers tips and examples on how to use workflex to create more flexibility for employees AND their managers, answers to questions about managing performance and flexibility, making sure everyone is treated equally.
Visit
www.whenworkworks.org
for more information and join the #workflex conversation on Twitter
@WhenWorkWorks
.
Join the workflex conversation!
Follow us on Twitter @WISHRM, and also follow @WhenWorkWorks and @SHRMPress.