Position Description & Duties
Certification - Position Description & Duties

POSITION DESCRIPTION:
Promotes certification activities for the state council, SHRM affiliated chapters and their members.
RESPONSIBLE TO:
The State Council Director
RESPONSIBILITIES:
Facilitate State & Chapter programming resource information & ensure that information regarding speakers, content, & related materials are made available to all Chapters.
Serves as a voting member of the state council and is expected to attend and participate in all meetings of the council.
Reports to the state director on a regular basis concerning activities promoting certification throughout the state.
Promotes the certification of human resource professionals through the Human Resource Certification Institute (HRCI).
Promotes the formation of chapter study programs to facilitate the certification of chapter members.
Promotes the partnering of chapters and universities to conduct certification preparation courses using the university-based SHRM Learning System.
Encourages the certification of council members.
Develops communication programs in and about certification (e.g. topical, process, re-certification, issues, etc.).
REQUIREMENTS:
Must be a SHRM member in good standing. HRCI certification required.
Appointment is made by the state council director
TERM:
Serves a one-year term beginning the first day of January and ending the last day of December. May be reappointed for two additional one-year terms for a total service of three years.
Contact Information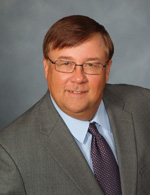 Don Herrmann, MBA, SPHR, CPC
WI State Council Certification Director
Phone: (920) 238-9605
donherrmann@gmail.com
Bio:
Don is President of Herrmann Advantage Consulting, LLC in Fond du Lac. He has lead human resources activities for over 30 years and has been the top HR executive for a number of companies in multiple industries. Prior to starting his consulting business in 2008, Don was Vice President of Human Resources for a national company headquartered in Denver, Colorado. Don has served on a variety of SHRM Chapter Boards in Georgia, Ohio, Nebraska and Colorado. Additionally he is an adjunct faculty member of Marian University and the University of Phoenix. He also serves on the Academic Advisory Board for Moraine Park Technical College.
---
Additional Information
---