OVERVIEW
Certification is based on the voluntary action on the part of an occupational or professional group (such as SHRM) to institute a system by which it can grant recognition to those practitioners who have met some stated level of training and experience. Certifications serve to define what an individual needs to know in order to be an acknowledged "expert" in that field.
The Human Resource Certification Institute is the HR credentialing organization founded by the Society for Human Resource Management (SHRM). The HR Certification Institute works to define the HR body of knowledge and assesses candidates on their mastery of that body of knowledge. The HR Certification Institute certifies that the individual has met with distinction the high standards of education and experience, and has demonstrated knowledge established by the institute.
There are three levels of certification, the Professional in Human Resources (PHR), the Senior Professional in Human Resources (SPHR) and the Global Professional in Human Resources (GPHR). As of March 17, 2009, the total number of certified HR professionals was 99,403; with Wisconsin certified professionals totaling 2552.
Click here
for answers to frequently asked questions.
Why is certification important?
What does certification involve?
What are the eligibility requirements?
How do I determine my level of certification?
What is the cost?
How does the Pay If You Pass option work?
What does the exam cover?
When and where is the exam held?
How do I prepare for the exam?
What happens on the day of the exam?
What happens after the exam?
How is certification maintained?
Certification -2012
According to the Human ResourcesCertification Institute
More than 108,000 HR professionals have earned HR certification as a PHR, SPHR, GPHR, PHR/CA or SPHR/CA. This certification demonstrates to you and your organization that you commit to a higher standard.
As a Human Resources professional certification means that you;
show you know the most current principles and core practices of HR management
become more marketable when you compete for top HR positions
raise your professional confidence among your staff and your peers
A growing trend in hiring practices for HR professionals is organizations requiring or preferring HR Certification for their new hires. To advance your career and enhance your professional value and standing take a look at this year's certification exam schedule and sign up now. Join the more than 2900 Wisconsin HR professionals who are already certified.
To learn more about HR certification, examination schedules, preparation course and fees go to
http://www.hrci.org
/.
2012 Exam Application Submission Dates
Testing Dates
Applications Accepted
Late Applications Accepted*

Spring

PHR/SPHR May 1 – 30 June 2012
Jan 9 – Mar 9, 2012
Mar 10 – Apr 13, 2012

GPHR May 1 – May 31, 2012

Jan 9 – Mar 9, 2012

Mar 10 – Apr 13, 2012
Winter
PHR/SPHR Dec 1, 2012 – Jan 31, 2013
July 9 – Oct 5, 2012
Oct 6 – Nov 9, 2012

GPHR Dec 1 – 31, 2012

July 9 – Oct 5 2012
Oct 6 – Nov 9, 2012
A US $75 nonrefundable late fee is applied to all applications submitted during this time
| | | | |
| --- | --- | --- | --- |
| 2012 Fees | | | |
| Price US $$ | PHR | SPHR | GPHR |
| Non - SHRM Member | $300 | $425 | $425 |
| SHRM Member | $250 | $375 | $375 |
RECERTIFICATION
Recertification can happen at anytime within the 3 years since you became certified.
You may recertify by:
accumulating 60 credit hours of HR-related continuing education activities
taking the exam again
To recertify through continuing education, all activities must be
Apply for Recertification
After completing a minimum of 60 HR-related recertification activities or continuing education programs you may submit your application and payment for recertification.
all certified HR professionals have an Online Profile where you can record your recertification activities. It is recommended that you utilize this online profile to maintain an accurate record of your recertification efforts.
View More
Contact Information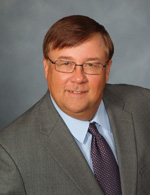 Don Herrmann, MBA, SPHR, CPC
WI State Council Certification Director
Phone: (920) 238-9605
donherrmann@gmail.com
Bio:
Don is President of Herrmann Advantage Consulting, LLC in Fond du Lac. He has lead human resources activities for over 30 years and has been the top HR executive for a number of companies in multiple industries. Prior to starting his consulting business in 2008, Don was Vice President of Human Resources for a national company headquartered in Denver, Colorado. Don has served on a variety of SHRM Chapter Boards in Georgia, Ohio, Nebraska and Colorado. Additionally he is an adjunct faculty member of Marian University and the University of Phoenix. He also serves on the Academic Advisory Board for Moraine Park Technical College.
---
Additional Information
---