Secretary - Past Secretaries
October, 2010 - Present
Cassy Van Dyke, SPHR
2008 - September, 2010
Kellie Dunn-Poggemann, SPHR
Contact Information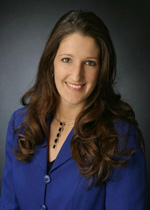 Cassy Van Dyke, SPHR, ACC
QBE the Americas
Ph: 608-825-5773
Fx: 608-825-5125
Em:
cassy.vandyke@us.qbe.com
---
Additional Information
The State Director is the chief elected officer of the State Council and effectively establishes policy, strategies, and objectives consistent with SHRM, Region and National Board policies. The State Director provides guidance to Council members.
---
Bio:
Cassy Van Dyke is a Senior Leadership & Talent Consultant at QBE the Americas, where she where she serves as a consultant and coach in the areas of leadership assessment, talent review and succession planning, and leadership development. Cassy's background includes over 10 years of business and human resources experience in internal consulting, external consulting, and leadership roles in a variety of industries, including insurance, healthcare, and in the public sector.
Cassy holds a Bachelor's in Business Management, is a certified Senior Professional in Human Resources (SPHR), and is an International Coach Federation Associate Certified Coach (ACC). Cassy is a Past President of the Greater Madison Area (GMA) SHRM, is a member of the International Coaching Federation (ICF), and is a member of American Society for Training and Development (ASTD).