The Secretary is responsible for assisting the State Director and other Council members with various special projects and sits on the Nominations Committee and the executive team for the Council.
Responsible To: State Director

Responsibilities:
Attend all State Council meetings, Executive Team meetings and actively participate in Council matters.

Review and prepare reports associated with Council meetings and activities. Review and provide approval of prepared minutes of Council meetings. Approve Council meeting attendance records.

Prepare and submit the State Council Achievement Plan (SCAP) with assistance from the State Director.

Assist State Director with Pinnacle Award submission as needed.

Maintain Bylaws of Council and draft updates with Communications Coordinator as necessary for Council voting.

Facilitate renewal of Administrative Management Company contract with Treasurer and State Director.

Create theme and bi-annual Council magazine.

Obtain and administer Council Partnerships, including coordinating the marketing and promotion of opportunities and serving as a liaison between partners and members.

Assist with public relations matters as requested.

Assist other Council members on various special projects and council communication for events, conferences, or activities.

Perform other duties as assigned by State Director.

Requirements:
National SHRM membership in good standing required. HRCI certification preferred.
Term:
Serves a one-year term beginning the first day of January and ending the last day of December. May be re-elected for two additional terms for a total of three years.
Contact Information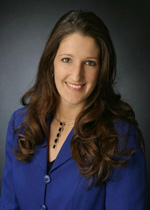 Cassy Van Dyke, SPHR, ACC
QBE the Americas
Ph: 608-825-5773
Fx: 608-825-5125
Em:
cassy.vandyke@us.qbe.com
---
Additional Information
The State Director is the chief elected officer of the State Council and effectively establishes policy, strategies, and objectives consistent with SHRM, Region and National Board policies. The State Director provides guidance to Council members.
---
Bio:
Cassy Van Dyke is a Senior Leadership & Talent Consultant at QBE the Americas, where she where she serves as a consultant and coach in the areas of leadership assessment, talent review and succession planning, and leadership development. Cassy's background includes over 10 years of business and human resources experience in internal consulting, external consulting, and leadership roles in a variety of industries, including insurance, healthcare, and in the public sector.
Cassy holds a Bachelor's in Business Management, is a certified Senior Professional in Human Resources (SPHR), and is an International Coach Federation Associate Certified Coach (ACC). Cassy is a Past President of the Greater Madison Area (GMA) SHRM, is a member of the International Coaching Federation (ICF), and is a member of American Society for Training and Development (ASTD).