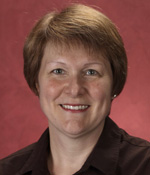 Margie Harvey, SPHR
Silver Star Brands
250 City Center
Oshkosh, WI 54906
Ph: 920.232.6409
Fx: 920.231.1247
Em:
mharvey@silverstarbrands.com
---
Bio:
Margie Harvey, SPHR, is Vice President of Human Resources at Silver Star Brands in Oshkosh, Wisconsin. She has over 25 years of experience in Human Resources with companies including Miles Kimball, Wisconsin Tissue, biotech company Genencor International, Ralston Purina, and the Dial Corporation. Her experience includes working in both union and non-union settings, in both line leadership and HR roles. She received her BA in Business and Economics from Iowa Wesleyan College, her MBA from Western Illinois University, and is lifetime SPHR certified. She is passionate about the importance of lifelong learning. Building strong leadership teams and an empowered culture of leader and employee development have been key responsibilities in her positions throughout her career.

Margie is president of the Silver Star Brands Foundation, Wisconsin state SHRM (Society of Human Resources) Workforce Readiness Director, board member of the Oshkosh Boys & Girls Club, board member of the UW Oshkosh Business Success Center, and Chair of the Winnebago Conflict Resolution Center. She is a past chairman of the Business & Education Partnership committee of the "New North" Wisconsin region, and past chair of the Advisory Board of Fox Valley Technical College. She serves on the judging committee for the New North Workplace Excellence award committee, serves on the advisory council for Tom Wiltzius & Associates, and on the strategic planning council for UW-Oshkosh School of Business. Margie and her husband Jim and family live in Neenah WI.