A message from your WI SHRM State Director, Katie Walk, SHRM-SCP, SPHR
Hello SHRM professionals!
Itís hard to believe we are already halfway through 2016! This year is flying by but it has definitely been a productive year so far! In March, the Council hosted our second annual
WI SHRM Day on the Hill
in Madison Ė Iím very proud of the advocacy work we did on behalf of the HR profession. We hope that this event continues to grow! The
WI SHRM Student Games
, also held in March at Lakeshore Technical College, again gave our student teams a great opportunity to compete and network with each other.
This year, your Wisconsin SHRM State Council is serving as a
When Work Works Community Partner
.
When Work Works
in a SHRM initiative in partnership with the Families and Work Institute. We are going to be honoring the When Work Works award winners from Wisconsin at a special luncheon at our Leadership Conference in August. Congratulations to BDO USA, LLP with locations in Madison and Milwaukee; JACounter in New Richmond; KerberRose, S.C. in Shawano; Laughlin Constable in Milwaukee; and Palmer Johnson Power Systems in Sun Prairie.
I hope to see you in
October at the 30th annual WI SHRM State Conference!
It is being held Oct. 5-7 and the theme is Back to the Future: Celebrating 30 Years of WI SHRM. Conference co-chairs Kellie Dunn-Poggemann and Matt Bucher, along with the entire state conference planning committee, have been working extremely hard to provide attendees with programming that will add value to your role as an HR professional and positively impact your organization. This is our biggest WI SHRM event of the year and an excellent networking and education opportunity! In addition, we have some wonderful sponsors and exhibitors that offer solutions you need. We will once again be offering a conference app for you to download on your phone or tablet prior to the conference that will provide you with your schedule, program information, speaker info, and important conference updates. This is a conference that canít be missed!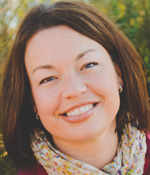 This has been an excellent year so far and Iím so proud to represent WI SHRM as State Council Director! If you have comments, questions, suggestions, ideas or feedback for me, Iíd love to hear from you! Thank you and I hope to see you soon!