Workforce Readiness Director
Overview
Human resource professionals in the state of Wisconsin understand the role that a quality workforce plays in our successful business and economic environment. Our goal is to create an awareness of the importance of the partnership of business, education, government and community in developing a well-prepared, high-quality workforce. Our efforts will assist businesses in recruiting, retaining and promoting employees at all levels.
What is Workforce Readiness?
It depends on who you ask! It is one big subject, ranging from the most basic entry level skills to the training for positions that require highly technical or highly educated individuals.
Workforce Readiness includes the preparation of a qualified workforce through the public schools, vocational and technical colleges, adult educational opportunities, remedial employee training, and continual professional development. This is achieved through assessment, awareness and collaboration by business and industry, educators, the local community, and government.
While the term "readiness" implies pre-employment competencies that bring talent to the workplace, we know that workforce development issues may also apply to members of our incumbent workforce needing remedial training or lacking in skills to move them beyond entry level positions.
Why Workforce Readiness?
Workforce readiness efforts will help ensure that there are adequate quantities of trained, reliable workers to meet the needs of business and industry, now and in the future. Jobs that are technical and service oriented, require increased interpersonal, communication, problem solving and decision making skills. Some of these skills must be developed, such as work ethic, attendance reliability, and good judgment skills. Worker training also provides improved skills and behaviors such as interpersonal communications, team building, and technical job-specific knowledge which can increase productivity and reduce turnover.
Getting Started / Chapter Resources
Getting started is easy. Begin with a plan, based on your chapter's size and level of commitment – are you looking for short or long term involvement? Next, determine who your potential collaborators are and develop a partnership; the best place to start is with an organization with shared goals or objectives. If you don't want to start with your own program, partner with an organization with an existing program.
Contact Information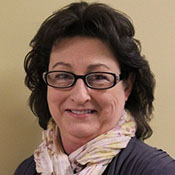 Beth Chambers
WISHRM State Council Workforce Readiness Director
Blackhawk Technical College
326 Forst Park Blvd
Janesville, WI 53545
Ph: 608-290-8776
Em: Bchambers326@gmail.com
---
Biography
Beth has been involved in adult education and training for over 16 years at Blackhawk Technical College. Whether in the classroom or the training room, she's participated in improving the hard (technical) skills or soft skills of entry and mid-level employees. In the last five years, she has created and continues to teach the Human Resources Associate Degree program at BTC. SHRM has proven to be an invaluable resource for the program from providing a body of knowledge framework for curriculum to job opportunities for her graduates.

Beth is SPHR certified, a member of the Association of Talent Development (formerly ASTD) and a member of the Wisconsin Association for Career and Technical Education. She is excited about the position of Workforce Readiness Director for Wisconsin SHRM aimed at communicating about the constant changes in job requirements for organizational success, the wide-range of diversity in the Wisconsin workforce and the programs the government offers to meet those needs.
Additional Information
The State Director is the chief elected officer of the State Council and effectively establishes policy, strategies, and objectives consistent with SHRM, Region and National Board policies. The State Director provides guidance to Council members.
Resources
SHRM Workforce Readiness Advocacy Link: http://www.shrm.org/chapters/
resources/wradvocacy.asp
All Means All School-to-Work Project www.ici.coled.umn.edu/all
American Council on Education http://www.acenet.edu/
One Dupont Circle, NW Washington, DC 20036
American Society for Training and Development http://www.astd.org/
1640 King Street, Box 1443, Alexandria, VA 22313-2043
Association for Career and Technical Education http://www.acteonline.org/
Association for Supervision and Curriculum Development http://www.ascd.org/
1703 N. Beauregard Street Alexandria, VA 22311
Chamber of Commerce of the United States http://www.chamber-of-commerce.com/
1615 H Street NW Washington, DC 20062-2000
Job Corps (Department of Labor) http://www.jobcorps.org/
Jobs for the Future http://www.jff.org/
88 Broad Street Boston, MA 02110
MENTOR/The National Mentoring Partnership http://www.mentoring.org/
1600 Duke Street, Suite 300 Alexandria, VA 22314
National Academy Foundation http://www.naf.org/
National Alliance of Business http://www.nab.com/
1201 New York Avenue, NW Suite 700, Washington, DC 20005
National Association of Partners in Education, Inc. http://www.napehg.org/
901 North Pitt Street, Suite 320, Alexandria, VA 22314
National Center for Education and the Economy http://www.ncee.org/
National Employers Leadership Council http://www.neic.org/
1201 New York Avenue, NW,Suite 700, Washington, DC 20005
National Foundation for the Improvement of Education http://www.nfie.org/
1201 16th Street, NW Washington, DC 20036
National Skills Standards Board http://www.nssb.org/
1441 L Street NW, Suite 9000, Washington, DC 20005-3512
No Child Left Behind http://www.nclb.gov/
U.S. Department of Education,
400 Maryland Avenue, SW, Washington, DC 20202
U. S. Department of Education http://www.ed.gov/
400 Maryland Avenue, SW, Washington, DC 20202-0498
Vocational Industrial Clubs of America http://www.skillsusa.org/
P.O. Box 3000, Leesburg, VA 20177-0300