Government Affairs Director
Past Government Affairs Directors
2013-2015
Mark Goldstein

Oct 2011-2012
Terleen Cheslock
Jan 2010-2011
Greg Hubley
Apr 2009-2010
Tami R. Christian, PHR
Jan 2009-Apr 2009
Kellie Dunn-Poggemann, SPHR
2007-2008
Kris Levanetz, PHR
2005-2006
Brian Gohlke

Contact Information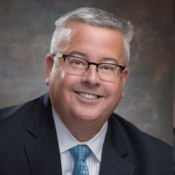 Tony J. Renning
Strang, Patteson, Renning, Lewis & Lacy, S.C.
Attorney at Law
2935 Universal Court
PO Box 3505
Oshkosh, WI 54903-3505
Phone: (844) 833-0823
Em: trenning@strangpatteson.com

---
Biography
Tony has been involved with SHRM for six (6) years – All with the Oshkosh Chapter. He was a member of the founding Board of Directors for the Oshkosh Chapter and has been on the Board for the past six (6) years:

2010 & 2011–Government Affairs Director
2012 – President Elect
2013 – President
2014 – Past President
2015 – Government Affairs Director

He has three (3) plus years of experience serving as the Government Affairs Director for the Oshkosh Chapter. During this time we have developed one of the premier "Legislative Update" programs in the Fox Valley. We have a legal update and we invite state and federal legislators to address the group (concerning recent legislation and proposed legislation). Additionally, he has been to Washington for the National Leadership Conference and took part in "Day on the Hill" – lobbying Wisconsin legislators. He has numerous connections to state and federal legislators which makes it easy to stay up-to-speed on proposed legislation and also makes it easy to get these legislators involved in local programming (I'm sure the same would be true at the state level).

He has been involved with a number of other non-profit boards in the Oshkosh area, holding a number of leadership positions: (Propel (Chamber Young Professionals) – Past President; Oshkosh Area United Way – Past President; Wisconsin Family Business Forum (UW-Oshkosh) – Past President; Oshkosh Family, Inc. – Past President; and Oshkosh Community YMCA – Current President (term expires December 31, 2015).
---
Additional Information
Resources